The Parisian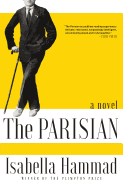 The Parisian is Isabella Hammad's remarkable exploration of a Palestinian man's life within the broader geopolitical context of World War I and the British Mandate in Palestine. Midhat Kamal is a teenager in Nablus, a city north of Jerusalem, at the cusp of the war, born into a wealthy merchant family. Eager for his son to avoid military duty, Midhat's widowed father sends him to Montpelier, France, to study medicine. At 19, he is restless for new adventures and promptly falls in love with his French host's daughter, Jeannette.
Thwarted love and family obligations bring the young man back to Nablus, via Paris and Cairo, during the British occupation of Palestine. As the country braces for the independence promised by the British, Midhat struggles to settle down. His heart still belongs to Jeanette, and the aftershocks of their romance reverberate throughout his life. Midhat's acquired French sensibilities are at odds with the Arabic tastes of his Nablusi community, where his elegant sartorial choices earn him the nickname "The Parisian."
Hammad's debut is a triumph in its historical depth, bringing to life world events that are usually dusty, dry facts buried in history books. As circumstances beyond his control destabilize Midhat, Palestine, too, is undermined when the British commitment to statehood fails to materialize. Hammad expertly guides the reader through the markets and mountainous regions of Nablus, the teeming cities of Cairo and Constantinople, charming Montpelier and the intellectual energy of Paris.
As a British Palestinian, Hammad offers a nuanced vantage point from which to comprehend and contextualize present-day conflicts in the Middle East. --Shahina Piyarali, writer and reviewer