The Accidental Veterinarian: Tales from a Pet Practice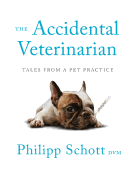 Like most children, Canadian Philipp Schott was fascinated with animals. Other than "Bobo the Christmas Gerbil," however, he didn't grow up with pets. He had never even set foot in a clinic when electing studies at University of Saskatchewan. Yet proceeding through the catalogue, he eliminated courses until left with the last on the alphabetical list, Veterinary Medicine.
Two decades into his "chosen" vocation, Schott has a second somewhat accidental career as a writer. The Accidental Veterinarian shares Schott's stories of getting past his self-consciousness dealing with people to create a thriving practice of his own (clearly and empathetically communicating with owners being an axiomatic prerequisite--sometimes frustrating, often hilarious--to a vet helping the creatures they love).
Originally writing about travel and whiskey as an outlet from work, Schott found veterinary medicine "a story machine" and eventually began a blog in which many of these pieces originally appeared. Separated into four parts (the making of a vet, the art of veterinary medicine, its science and "peculiar tales"), Schott covers a vast range of practical, funny, difficult and gross elements of practice and pet ownership.
Schott's writing is engagingly conversational and showcases his colorful sense of humor ("chocolate vomit holds a special place near the apex of the devil's perfumery"). Importantly, he does not gloss over the vast emotional costs, delving into "black coat" (euthanasia) days and high suicide rates. Educational, entertaining and compassionate, this confluence of happy accidents is a must-read for anyone who is, loves or works with a veterinarian. --Lauren O'Brien of Malcolm Avenue Review