Normal People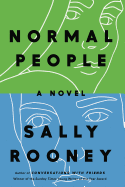 Normal People, nominated for the 2018 Booker Prize, is Irish writer Sally Rooney's follow-up to Conversations with Friends. Like her first novel, it's a spare, incisive story of intellectually sharp millennials navigating love and life.
Connell and Marianne are schoolmates in Sligo, where their social statuses are clearly defined. When Connell arrives at Marianne's to pick up his mother, who cleans for the family, Marianne initiates a flirtatious banter, opening a path for what becomes an often tender, sometimes contentious and always secret relationship.
Connell and Marianne conceal their affection at school (where he is a popular football hero and Marianne is scholarly and enigmatic) and at home (where her brother and mother would disapprove). They become intimate, and Connell thinks "no conflict has to arise, he never has to choose one thing over another." After a three-month gap between secondary school and college, however, their paths cross again briefly at Trinity.
For the next four years Marianne and Connell are separated by other lovers and pursuits, but continue to reunite in various iterations of their relationship. Common experiences continue: academic excellence and a shared intuition, "like speaking a private language," Connell thinks. Near the book's end, Marianne muses, "All these years they've been like two little plants sharing the same plot of soil, growing around one another, contorting to make room, taking certain unlikely positions." Rooney doesn't provide a happy-ever-after ending, but a sense that these two memorable characters who have come of age together will continue to thrive. --Cheryl Krocker McKeon, manager, Book Passage, San Francisco