In the Neighborhood of True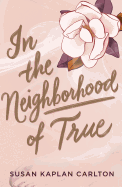 Shortly after her father's death in the summer of 1958, 16-year-old Ruth Robb, her mother and her younger sister move from an apartment in New York City to her maternal grandparents' guesthouse in Atlanta. Ruth is quickly swept up in the pre-debutante lifestyle, attending "T and E"s (Tea and Etiquette lessons) with the "pastel posse"--a group of blondes dressed in "shades of sherbet"--and hanging out at the country club with the devilishly handsome Davis Jefferson. All's swell, as long as she doesn't reveal she's Jewish. But when a hate crime occurs, Ruth is forced to decide which is more important: what's true or what's in the neighborhood of true.
Susan Kaplan Carlton's (Love and Haight) expert juxtaposition of the typical white, Southern Christian teenager's experience with the harsh truth of intolerance and persecution of marginalized groups in 1950s America well represents the time period. Her picture of 1958 Atlanta successfully illuminates the dichotomy between the city's "loveliness" and its ugly history of racism, anti-Semitism and injustice, using Ruth to show that "along with... happiness, there's a hatred." Just as snippets of news about murders and integration protests over car radios and the Teletype relegate race relations to background noise, Ruth covers up her truth with red lipstick, "soft of color and swingy of skirt" tea dresses and straightened hair.
The Neighborhood of True, inspired by real-life events, is a testament to an important time in our country's history with themes that resonate today. --Lana Barnes, freelance reviewer and proofreader