Autumn Light: Season of Fire and Farewells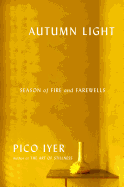 Readers for whom the name Pico Iyer (The Year of Stillness; The Man Within My Head) conjures up images of a globetrotting journalist posting from places like Dharamsala may be surprised by the domesticated version of him they encounter in his elegiac memoir, Autumn Light. But with the beauty of its prose and the quality of its insight, this gentle, reflective reminiscence reveals again Iyer's literary virtuosity.
Focusing on two months in the late fall of 2013, Iyer eloquently describes his life in Nara, a "rustic town" located about 20 miles from Kyoto that boasts the largest municipal park in Japan, home to 1,200 wild deer. For six months each year Iyer and his wife, Hiroko, live in a two-room apartment there, in a "bright, rectilinear neighborhood of vending machines and hair salons."
Much of what makes Autumn Light so enchanting is the effortless way Iyer extracts meaning from life's quotidian details, like his frequent visits to the local ping-pong club. He writes movingly of the season "when everything falls away" with a keen appreciation of the natural beauty that surrounds him. Yet even in arresting passages that portray the "reddening of the maple leaves under the blaze of ceramic-blue skies that is the place's secret heart," or a path that's "still carpeted in scarlet and orange, so thick I might be walking on a crackling, seething Persian rug," he reveals fundamental truths in an unobtrusively aphoristic style.
Autumn Light's brief, meditative passages make this an ideal volume to read and read again for both pleasure and wisdom. --Harvey Freedenberg, freelance reviewer