A Piglet Named Mercy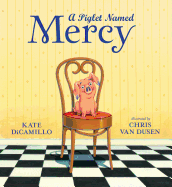 Early chapter book heavyweight and "porcine wonder" Mercy Watson has charmed readers since Newbery-winning author Kate DiCamillo introduced her in 2005's Mercy Watson to the Rescue, illustrated by Chris Van Dusen. Now fans can learn how Mercy came to live with the doting Watsons in this picture book origin story, complete with Van Dusen's cheerily whimsical illustrations.
After Mrs. Watson wishes something different would happen, she and her husband get the best surprise of their ordinary, predictable lives: a big-snouted, floppy-eared piglet literally lands in their Deckawoo Drive yard. Much like fellow hero Clark Kent, Mercy fills the void in her adoptive, different-species parents' lives. Although their dour, azure-haired neighbor Eugenia disapproves, one look at the cherry-cheeked "darling, darling thing," and the Watsons fall in love.
While the plot serves primarily as an introduction to the characters for those too young for chapter books, the Watsons' warm acceptance of Mercy's independent spirit and huge appetite will comfort and beguile the intended preschool audience. Series fans ages 6 to 8 may also enjoy the chance to find out how Mercy got her name and discovered buttered toast. Van Dusen's gouache illustrations hit astronomical heights on the adorability meter, and readers will squee-al in delight as rosy-hued baby Mercy bounces through the world on the tips of her tiny trotters. Whether smiling out of her swaddling blanket or flying upside-down and startled from the back of a swine truck, this little piggy is sure to win as many friends among the pre-literate crowd as she has among early readers. Here's hoping mini-Mercy returns for more adventures. --Jaclyn Fulwood, youth services division manager at main branch, Dayton Metro Library